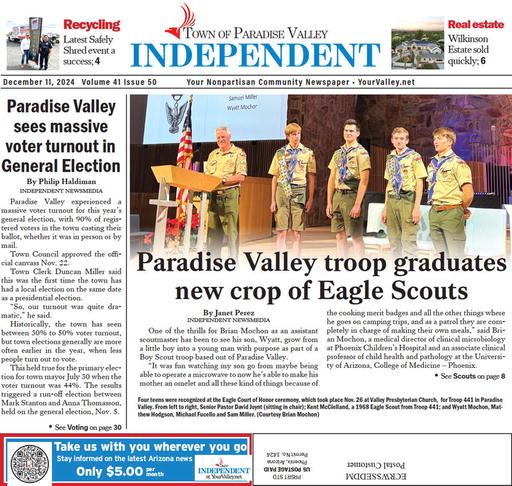 The incorporated Town of Paradise Valley has one of the highest per capita income levels of any city or town in Arizona — as well as the highest concentration of millionaires in the country. And every one of its residents has the extremely good fortune to receive the Town of Paradise Valley Independent via the mail every week. It not only offers a wealth of information, but with a circulation of 8,600, it's also the only newspaper published exclusively for the Town of Paradise Valley.
A close neighbor to the City of Scottsdale, the Town of Paradise Valley is also home to some of the Valley's most exclusive resorts.
Advertising
Classified Advertising: FREE online classifieds. No limit on the number of ads. Up to 400 words and four photos free. Many options to upgrade your ad or publish in print. You can submit your ad online or send email to our classified team for more information.
Display advertising: Send email to our sales team or our billing team, or download a rate card for information about the Queen Creek Independent and other Independent Newsmedia Inc. publications in the Phoenix area.
Archives
The Town of Paradise Valley Independent's online archive contains staff-written and other selected articles from 2008 to the present. Searches are free. You may purchase individual articles for $2.95 or select a package for multiple articles.